People Moves
Summary Of North America Moves In Wealth Management - July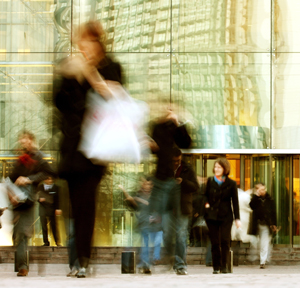 CC Capital Partners appointed Matthew Skurbe as chief financial officer, chief operating officer and senior managing director. Skurbe is responsible for leading all operational, financial and control processes for CC Capital. Prior to this role Skurbe was an MD in finance and the treasurer for Blackstone. He was also the chief operating officer for Blackstone Liquidity Solutions and a member of the firm's valuation committee and enterprise risk committee. Before this, he was the CFO for Merrill Lynch Bank & Trust.
Z Capital Group, a privately held investment firm with about $2.8 billion of assets, appointed Laura Krivec as director in corporate development. Prior to this role, Krivec worked for nearly five years at Cambridge Associates in London, most recently as an associate investment director in the Real Assets Investment Group.
Argent Trust Company promoted Reid Harrell to chief executive, having previously been chief fiduciary officer and western regional manager for Argent Trust. Based in San Antonio, Harrell reports to Kyle McDonald, CEO of Argent Financial Group. Before joining Argent, Harrell held senior positions at The Trust Company in San Antonio, Texas and served as CEO when Argent acquired the company in 2013.
Altrinsic Global Advisors, the investment firm, appointed Sara Sikes as head of client experience. The role was a new one at the firm. Sikes will provide strategic direction and oversight to the firm's client service, communications, and marketing efforts. Prior to this, Sikes worked at Greenwich Associates, the global provider of data, analytics, and insights to the financial services industry.
Argent Trust Company promoted Reid Harrell to chief executive officer. Harrell previously served as the chief fiduciary officer and western regional manager for Argent Trust and is chairman of the trust management committee. Based in San Antonio, he reports to Kyle McDonald, CEO of Argent Financial Group.
Before joining Argent, Harrell held senior positions at The Trust Company in San Antonio, Texas and served as CEO when Argent acquired the company in 2013. Prior to that, he served as a market executive for the wealth management division of BBVA Compass and also worked at Bank of America as private banking market executive for the state of Arizona.
Argent Financial Group promoted Brooks Campany to regional manager of the Oxford, Mississippi, Jackson, Mississippi and Memphis, Tennessee offices. Campany has served as market president of Argent Trust Company's Oxford office since 2018.
Argent Financial Group partnered with Todd DeKruyter and DK Financial. DeKruyter has worked in the family financial planning industry for more than 10 years. He serves as a family wealth strategist on behalf of Argent's Family Wealth Services division.
Wells Fargo appointed behavioral finance expert Michael Liersch to the newly-created role of head of advice and growth strategies for private wealth management. He is be based in New York City. Liersch leads a newly-combined team responsible for delivering planning services and growth strategies for clients of Wells Fargo Private Bank and Abbot Downing. Prior to this, Liersch worked as managing director and global head of wealth planning and advice at JP Morgan. Before that, he was head of behavioral finance and goals-based consulting at Bank of America-Merrill Lynch, and was head of behavioral finance at Barclays Wealth, Americas.
Wealthtech software company Advisor360° made four hires: Meredith Crouse as senior vice president, chief people officer, Doug Wood as senior vice president, customer success and operations, Gilad Sade as vice president, engineering development, and John Considine as vice president, solutions architect.
Prior to joining Advisor360°, Wood served as product director at Lucent Technologies, he was a founding VP at Pirus Networks (acquired by Sun Microsystems) and an SVP/co-GM at EMC Corporation. Prior to joining Advisor360°, Sade had various roles at Hewlett Packard Enterprise, where he was most recently VP of engineering. Before his appointment, Considine was GM of Cloud Infrastructure Services at IBM, chief technology officer at Verizon Terremark, founder and CEO of the enterprise cloud computing startup CloudSwitch, and director of engineering at Sun Microsystems.
Kilpatrick Townsend & Stockton, the investment house, appointed Michael J Cochran as a partner, based in Atlanta, Georgia. Cochran is a member of the firm's corporate department and co-chair of its private equity team. Prior to this, Cochran was at Dentons, where he previously served as chair of the US corporate practice.
Arsenal Capital Partners, the private equity firm investing in specialty industrials and healthcare companies, made a number of senior appointments.
Aaron Wolfe joined as an investment partner. Wolfe had been at Sun Capital Partners, where he most recently served as an MD and head of Sun Capital Partners' New York office.
John DiGiovanni, who joined the firm's healthcare team in 2018, was promoted from principal to investment partner; he serves on the boards of two Arsenal healthcare companies, Accumen and Hopebridge.
Dr John Mattison, who has been functioning as an Arsenal senior advisor, joined the firm's healthcare team as an operating partner and chief medical information officer. Previously, Dr Mattison was chief medical information officer for the Southern California Region of Kaiser Permanente, in which capacity he helped support the growth of one of the nation's leading integrated healthcare institutions.
Seventy2 Capital Wealth Management, based in the Washington DC and Baltimore area, appointed Andrew Hahn, CFP® as a vice president and financial advisor.
Tolleson Wealth Management promoted one of its senior figures, Royce Ramey, to the newly-minted role of chief experience officer. It's a post from which he oversees how clients' interactions with the business are kept at a high level. Ramey sits on the firm's governing CEO Council. Prior to joining Tolleson Wealth Management in 2010, Ramey provided family office services to ultra-high net worth families at GenSpring Family Offices in the Phoenix, Arizona area.
HarbourVest Partners, the global private markets asset manager, appointed Rob MacGoey as the chief financial officer for its management company. MacGoey, works with Karin Lagerlund, current CFO, who concentrates on client and fund accounting, treasury and capital markets. MacGoey was previously chief accounting officer and controller at Apollo Global Management.
RBC Wealth Management – US named Lauri Droster to the role of St Paul complex director. Prior to this, Droster was branch director of RBC Wealth Management's Madison, Wisconsin branch. She began her career in the securities industry in 1986.
Pascal Financial, the wealth management technology firm, appointed Howard Atkinson as chief business officer. Atkinson reports to Frances Zomer, chief executive of Pascal. Pascal launched an artificial intelligence-driven platform, using insight drawn from behavioral finance, in the first quarter of this year.
Russ Morrison was named global chief investment officer at Aegon Asset Management in charge of managing its €170 billion ($188 billion) fixed income investment platform and a team of 140 globally.
Morrison moved from Barings (formerly Babson Capital), where he spent 17 years in a number of roles, including president and head of fixed income, equities and multi-asset. Before that, he worked in the fixed income divisions at First Union Bank, Ernst & Young and North Carolina National Bank.
K2 Intelligence Financial Integrity Network appointed the former head of Argentina's Financial Intelligence Unit, Mariano Federici as a vice president in the firm's Washington DC office. Federici is a global expert on anti-money laundering and counter-terrorist financing, and has worked in government, international institutions and the private sector for more than 25 years.