People Moves
BNY Mellon WM Names Investment Head For Family Office Arm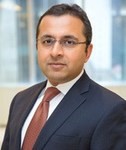 The newly appointed figure has worked in the wealth industry for more than 25 years, with experience at UBS and Bank of America, among others.
BNY Mellon Wealth Management has named Rajesh Nakadi as head of investments in its global family office practice. In this role, he will oversee family office client relationships, as well as supervise all investment strategies and lead the GFO investment team.
Nakadi, who is based in New York, reports to Vincent Hayes, global head of the family office business.
With more than 25 years' investment and management experience, Nakadi was previously senior vice president, global family office at UBS Private Wealth Management for seven years, where he served as a relationship manager for strategic family offices, delivering investment solutions across institutional and wealth management platforms.
He has worked at Bank of America/Merrill Lynch as managing director, head of capital markets and advisory group, and managing director, family office group, US Trust Company. He was also the managing director, chief operating officer at Quinlan Private and chief investment officer and head of Institutional Alternative Investments at Merrill Lynch Private Banking and Investments Group.
Nakadi earned a bachelor of science from the National Institute of Technology in Mangalore, India, a master of science from Florida Atlantic University, and a master of business administration from the Wharton School of the University of Pennsylvania. Rajesh also holds a NASD Series 7 and is a 66 Registered Representative and Series 24 Registered Principal. He is an active member of private charities throughout his community.