UHNW Institute
UHNW Business Models: The Registered Investment Advisor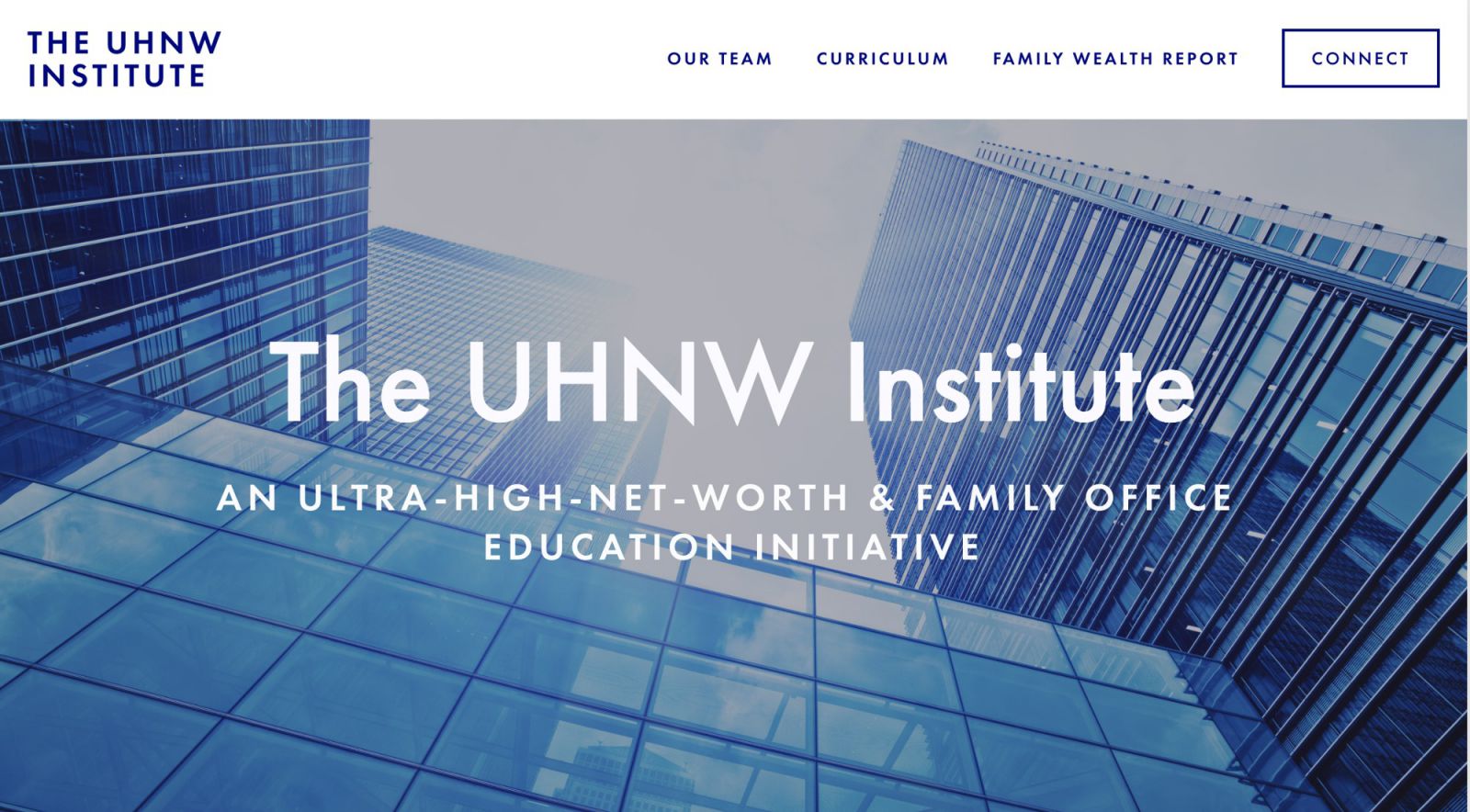 What's important here is that this disclosure makes it clear that XYZ firm, while positioning itself in an advisory capacity, is affiliated with a broader financial services firm that distributes financial products and services. This affiliation is a source of real conflict to the RIAs advisory role. A family that is looking for an advisory firm to represent their interests and help them buy should know that firm XYZ cannot and does not play that role.
But how can a firm provide a financial product or service and advise on who the optimal provider of that service is? A provider firm's worldview is focused on being the best provider of that service that they can be, but by definition their job is not to objectively compare their product or service to others in the space and help a family determine which provider's product or service is the best fit for them.
We know that ultra-high net worth families need providers. The question is do they need an advisor and, if so, how do they identify one that fits the bill?
Before deciding on an advisor, a family should consider which of the following is important:
• Having a clear understanding of the entire wealth picture;
• Ensuring that wealth management activities (investing, estate planning, risk management; banking, tax, etc.) are aligned with their overall strategy and objectives, and are being conducted in an integrated fashion;
• Creating a comprehensive investment strategy in sync with their goals;
• Sourcing and researching high quality investment solutions for the portfolio;
• Aggregating and reporting investment performance;
• Analyzing and optimizing fees; and
• Helping the family make critical decisions about their wealth – and engaging all the family members in the discussion.
These are all critical activities in a family's wealth management, but some families may choose to conduct these activities themselves. Alternatively, a family may choose to hire people to work for it directly to conduct these activities (by establishing a family office) and some may hire a firm (typically a private or commercial multi-family office) to support them in these activities. When a family chooses to hire a firm to help them, the regulatory framework of the advisory firm becomes critical.
Essentially, a standalone RIA firm with an advisory business model is the best fit to objectively and effectively serve in this role. If its only role is serving as an advisor without sales of products or services, then the firm is able to serve as a true advisor.
Families can and should ask any firm they are considering whether they take any fees for the provision of financial products and services, and then verify by reading the firm's ADV. Families should be particularly careful to identify "dual registrant" firms that are authorized to act in both RIA and broker-dealer capacities. Most often, these firms are not pure advisory firms, but hybrid firms in which there is an affiliation with a business that focuses primarily on selling financial products.
Understanding the advisor landscape
Once a family decides to hire an advisory firm to help manage its financial life, and has narrowed the search to RIA firms that don't provide any financial product or services, it helps to understand the landscape.
A straightforward way to narrow down the search among advisory firms is to first decide what the family needs, and then look at the services offered.
Is the family primarily looking for investment support? Or does it need more holistic, broad services to include their investments and other functions such as wealth planning and structuring; tax planning; risk management; and family governance and multi-generational support, among other things?
There is no right answer – every family needs to determine what type of support they are looking for.
Once a family determines what kind of wealth management support they need, they can begin to search for the firm with the best match.
The easiest way for a family to identify a firm that is more narrowly focused on investment advisory versus more broadly focused on wealth advisory is to look at how the firm charges fees. If the RIA charges a fee that is a percentage of assets under management it usually means they are focused on investments, offering other services as incidental. If the RIA charges a flat retainer fee, or some other fee that is not based on assets under management, it's a strong signal the firm is focused more broadly, offering wealth management advisory services.
If the family is seeking a firm to manage its entire financial life going beyond investments, a firm that charges a percentage on assets (AUM) may not be optimal. That firm most likely will see all the other critical wealth advisory services as secondary to the investments. A firm that charges a non-AUM based fee should be able to solve the family's broader wealth challenges and goals more efficiently.
And finally, decision time
In summary, while ultra –high net worth families face a multitude of options (commercial banks; broker-dealers; registered investment advisors (RIAs); and trust companies) a family can choose whichever option is best for them. A summarized list of things to consider may be helpful:
• What support do we need? Investments only? Or broad, holistic wealth services?
• Who will manage our ecosystem of providers?
• How does this firm get paid? A fee on AUM? Or a retainer fee?
• Are there potential conflicts of interest disclosed on the ADV?
In all cases ultra-high net worth families need an ecosystem of providers (banks, lawyers, accountants, brokers, custodians, investment managers, trustees, etc.). The core question is do they also need an advisor to help them source, diligence, integrate and manage that ecosystem of providers; one that is objective and able, because of its business model, to supervise and help the family select the collection of providers that is right for them. If they seek to not play the advisor/integrator role themselves but instead to seek an outside advisory firm to support them, a RIA is often the right answer.
Once they've made a decision to hire an RIA, then the question becomes which type of RIA (investment advisory focused versus wealth advisory focused) is right for them, and how can they identify an RIA that fits the bill?
Often, understanding the firm's fee model percentage of AuM-based versus retainer or other fee that is not based on AuM) is the best way for a family to know whether the RIA they are considering hiring is a match for what they are looking for. Finally, even if a family chooses not to hire an advisor to help assemble and oversee the right collection of providers, there are certain advisory activities the family must take on itself.
Relying on providers for advice is akin to asking the fox to guard the chicken coop. In our experience a typical provider has too many competing agendas to be able to objectively provide advice that is solely in the interest of the family. A family should make sure the only agenda being considered is its own.