What Do US Tax Cuts Mean for Global Investors?
Amlan Roy, April 20, 2018
The author of this item asks to what extent have the tax cuts enacted late in 2017 been reflected by markets.
Late last year the US Congress and Trump administration agreed on sweeping tax changes, with notable measures including a big cut to the corporate tax rate, doubling of estate tax exemptions, and changes to how individuals can deduct for local and state taxes. The fine print of these moves are still being examined by the North American wealth management sector. There are also effects on the underlying economy and markets,to be worked out. So a question arises is how much of all this has been priced in by investors and have the moves been fully discounted, or not?

To try and answer those points is Amlan Roy, global chief retirement strategist, State Street Global Advisors. The editors of this news service are pleased to share these thoughts with readers and invite responses. The editors don't necessarily share all views of guest contributors. Email tom.burroughes@wealthbriefing.com
The tax reform recently enacted in the US has been billed as the most comprehensive since the 1980s, with far-reaching consequences for US companies and their foreign counterparts.

As companies can no longer rely on central banks to provide liquidity in an age of gradual policy normalization, catalysts such as changes in global tax regimes will exert a stronger influence on corporate performance. Given the complexities and uncertainties of the new system, an assessment of the impact of these reforms can be only preliminary.

More competitive tax rate but modest economic impact
The US has long had one of the highest corporate tax rates in the world despite a number of overhauls.

While the recent tax reforms have made the US more competitive versus global peers, its corporate tax rate still exceeds the global average rate. However, its marginal effective tax rate (METR),(1) previously among the highest in the world, should now moderate in line with a global downward trend in corporation tax since the financial crisis. At lower taxation levels, companies are more likely to make investments at the margin that would have been dismissed under the previous regime.

The overall economic impact, however, is likely to be modest. A 2016 paper by Ljunqvist and Smolyansky found little evidence that corporate tax cuts between 1970 and 2010 led to more jobs or higher incomes, except during deep recessions.(2) Conversely, it found that tax increases had led to significant decreases in employment and income levels. Recent estimates by the Tax Foundation and broker research suggest US GDP growth will be 0.3 per cent to 0.4 per cent higher a year, post the tax reforms. The January 2018 World Economic Outlook of the International Monetary Fund is more optimistic, expecting a higher annual projected increase in US GDP growth of 1.2 per cent by 2020.

Increase in share buybacks and M&A
One of the most anticipated effects of the tax reforms is that US multinationals will no longer suffer from the "lockout effect" - holding cash within foreign affiliates to avoid paying taxes when offshore profits are remitted to the US.(3) US companies now hold $2 trillion of profits offshore; eight technology companies alone, including Microsoft, Apple and Google, hold over $400 billion. However, it is unclear how much will actually be repatriated. US companies are not generally short of cash and the tax reforms do not address all the inefficiencies of the current system, so there may be fewer immediate effects on investment or employment than expected.

Consensus estimates for capital expenditure are up 3 per cent since the changes were announced.(4 ) But, in our view, it is too early to make realistic estimates as to how any incremental cash from the reforms might be allocated as we are likely to see a mix of uses.

According to a report by Dharmapala, Foley and Forbes (2011), however, repatriation can increase the likelihood of share repurchases, which are more common in the US than elsewhere. Some commentators are predicting buybacks could top $1 trillion in 2018, (5 ) while the S&P 500 Buyback Index has outperformed the main S&P 500 this year. (6 )

We could also see a pick-up in M&A. Following tax reform in Japan, for example, there was a 32 per cent increase in M&A transactions. Moreover, many US companies held back on M&A in 2017, particularly in pharmaceuticals, waiting for greater clarity on tax reform. They may now revive those plans. Other sectors, such as technology, that did not pause in 2017 may see activity accelerate and potentially larger transactions in 2018.

Sector winners and losers
While complex tax reforms often have unforeseen consequences and will affect individual companies differently, we believe there are likely to be winners and losers in the equity market.

Our active quantitative equity (AQE) team has designed a model to assess the impact of the changes on different sectors. It gives each company in the Russell 3000 a tax score, (7) groups them into industries and takes the median score for the set. It also gives each company an alpha score (8 ) - an estimate of how it will perform in the near future - and plots that against the tax score.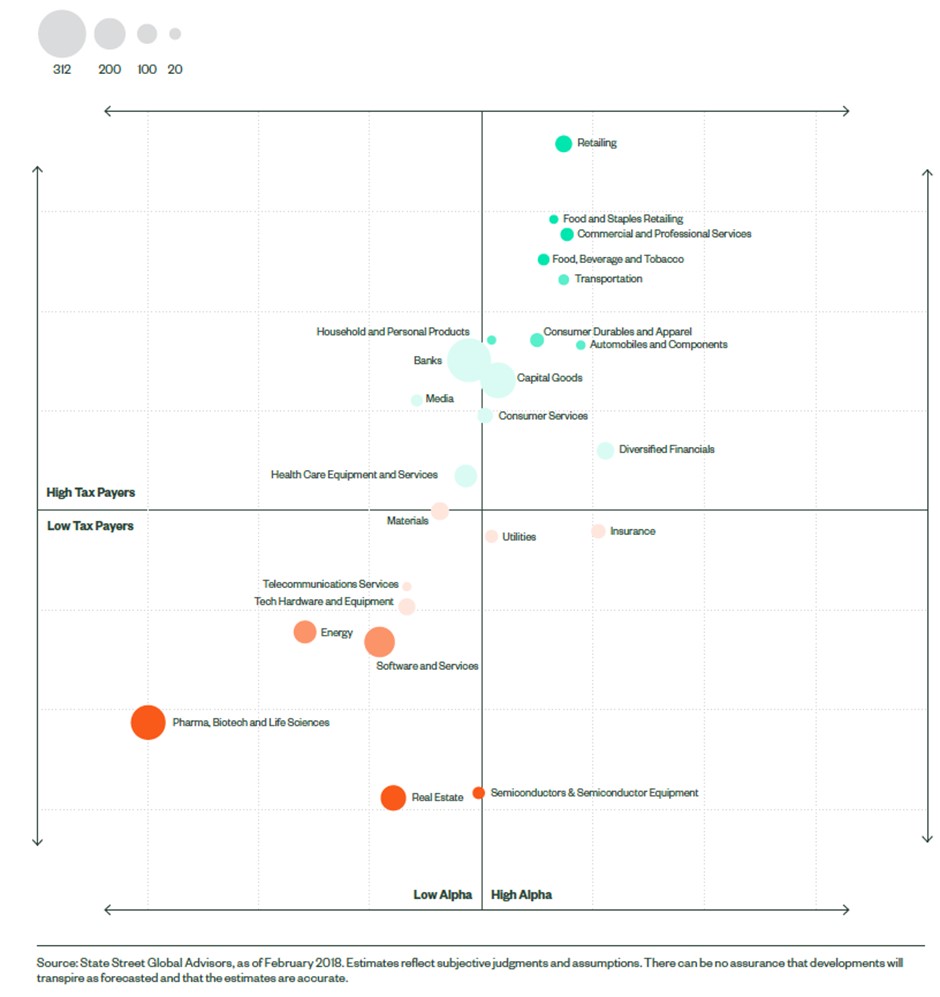 The AQE team believes that industries such as retail in the top right quadrant of this figure, with high tax and high alpha scores, should benefit most from the new tax regime. In particular, the highest tax-paying consumer-focused industries, given their quality balance sheets and cheaper valuations, are likely to be winners in a lower tax regime, alongside transport and professional services. On the flip side, industries that screen poorly on the team's alpha model, like biotechnology and energy, and pay the lowest taxes, stand to gain little and are likely to underperform going forward.

In addition, the ability to expense capital expenditure immediately should benefit capital intensive industries such as railroads, airlines and manufacturing of heavy machinery and electrical equipment.

Meanwhile, the lowering of mortgage interest deductions and the cap on state and local taxes, particularly in high tax states such as California and New York, could adversely influence the real estate sector.
In our increasingly technology-driven and globalized world, the US tax changes are likely to make the country a more competitive place to do business.

owever, the complexity of the reforms and their failure to tackle more of the inefficiencies of the previous tax code means the long-term economic impact may be limited, especially at this point in the business cycle. Management teams will have more choices when it comes to allocating capital and trying to balance credit-friendly actions with shareholder awards, so security selection is likely to become more important to equity and bondholders alike. Certain sectors will benefit more than others, and until the market prices in the full impact of the reforms, including secondary effects around the world, this should create harvestable value for investors.

Footnotes:
1. P. Bazel and J.M. Mintz (2017), "Competitive Impact of Tax Reform for the United States," The Tax Foundation.
2. Alexander Ljungqvist and Michael Smolyansky (2016), "To Cut or Not to Cut? On the Impact of Corporate Taxes on Employment and Income."
3. Dhammika Dharmapala (2017), "The Economics of Corporate and Business Tax Reform."
4. Robin Wigglesworth, "As the Market Swoons, Share Buybacks Are Back," Financial Times (February 21, 2018); https://www.ft.com/content/7a3529ce-1667-11e8-9e9c-25c814761640.>
5. http://www.valuewalk.com/2018/02/trump-corporatebuybacks/
6. Robin Wigglesworth, "As the Market Swoons, Share Buybacks Are Back," Financial Times (February 21, 2018); https://www.ft.com/content/7a3529ce-1667-11e8-9e9c-25c814761640.>
7. An effective tax rate, an effective tax rate adjusted for extraordinary items and a cash tax rate are calculated. These rates are standardized into percentiles across the Russell 3000. The average of these scores is taken, then this final score is re-standardized again into percentiles. As of December 29, 2017.
8. Each company's alpha score is our proprietary view of whether that company will outperform or underperform in the coming months. This is estimated using our bottom-up stock selection model, which looks at each company's relative valuation, sentiment and quality.