Investment Strategies
Lange Auf Wiedersehen, Balancing The Books: German Elections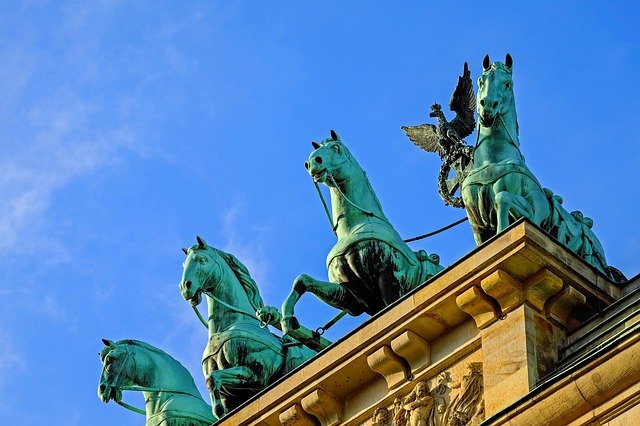 After 16 years in office, the Chancellor of Germany, one of the world's largest economies, is is stepping down. What should wealth managers with exposure to the European country think about Angela Merkel's departure and likely successors? An investment manager considers the terrain.
The focus on domestic US and Canadian politics (elections are taking place in the latter) may have obscured how there are polls in Germany, one of the biggest economies in the world. Angela Merkel has been in office for a decade and a half, outlasting several US presidents and counterparts in other nations.
The latest opinion polls suggest that big changes are looming, and not just with a new face at the top of German politics after 16 years. German voters head to the polls on 26 September knowing that there could be a massive shift to the left and a messy coalition to tend with. Taxation dominated the second televised debate on Sunday, with the canditates vying to replace Merkel all offering different recipes for how Germany should pay for a greener, more digital economy.
Olaf Scholz of the Social Democratic party (SPD), Green party leader Annalena Baerbock and conservative Armin Laschet of the Christian Democratic Union (CDU) are the frontrunners; snap polls have favored Scholz after two debates, with one to go. Wolfgang Bauer, fixed income fund manager at M&G Investments gives his assessment of what the baton passing holds for public finances and Germany's long tradition for fiscal constraint. We welcome his contribution and your feedback. Comments to tom.burroughes@wealthbriefing.com and jackie.bennion@clearviewpublishing. com.
Balancing the books
The days of the famous - or infamous, depending on who you ask - "Schwarze Null" (or "black zero," Germany's commitment to balancing its budget) might be numbered, just like those of Angela Merkel's chancellorship. If Olaf Scholz, the Social Democratic Party's candidate for Chancellor of Germany and current frontrunner in opinion polls, replaces Angela Merkel after the elections, this would have a meaningful impact on Germany's fiscal policy stance.
The election manifesto of the Social Democrats leaves little doubt that Scholz's party considers fiscal austerity entirely the wrong approach in the post-COVID environment. But would a Scholz government immediately end Germany's love affair with austerity and bring the country's public debt level of around 70 per cent closer to the euro area average of nearly 100 per cent?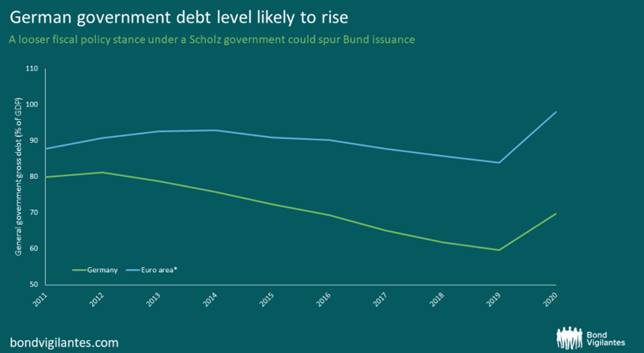 Source: M&G, Eurostat. *19 countries (from 2015).

Well, not so fast
The German constitution imposes strict rules in this regard, limiting annual federal net new debt issuance to a measly 0.35 per cent of GDP. And a Scholz government wouldn't have the necessary two-thirds majority in both chambers of parliament to get rid of the so-called "Schuldenbremse" (debt brake) altogether.
But the German constitution leaves a bit of wiggle room for getting around the 0.35 per cent limit in the event of natural disasters or other extraordinary emergency situations. And I think it is fair to say that, within the German constitutional framework, the Social Democrats may try to exhaust all possibilities to raise debt levels to fund public spending. Bond investors should thus brace themselves for heightened levels of German government bond issuance, which may put upward pressure on Bund yields.

After softening Germany's stance on domestic fiscal discipline, a Scholz government would probably be rather lenient toward public finances elsewhere in Europe too. We should also expect further steps toward European fiscal integration. The election manifesto of the Social Democrats downright swoons over the EU Recovery Fund, praising it as a seminal milestone toward European solidarity. Hence, it is likely that a Scholz government would be very supportive of any future pan-European projects combining joint debt raising with public investments tilted towards structurally weak areas. This could give a further boost to peripheral European risk assets, such as Italian and Spanish government bonds.
Source: M&G, Bloomberg (September 9, 2021).

It should be noted, however, that at current yield levels - at the 10-year point, Italian and Spanish government bonds are trading only 105 bps and 65 bps, respectively, wider than German Bunds - a large portion of the compression trade has already played out. Advances in European fiscal integration under a Scholz government might cause some further tightening but a complete disappearance of peripheral risk premiums, last seen before the Global Financial Crisis, is a highly unlikely scenario.
Another aspect that becomes abundantly clear in the election manifesto of the Social Democrats is the party's strong commitment to sustainability goals, and climate neutrality in particular. In fact, the word "Klima" (climate) is mentioned a whopping 67 times in the text or, on average, once a page! Large-scale public investment programs targeted at green infrastructure and technological innovation are likely to be launched in order to help promote the socio-ecological transformation of the German economy, especially if the Social Democrats form a coalition government involving the Green Party.
Undoubtedly, such a profound government-backed push toward sustainability would produce winners and losers within corporate Germany. It is our job as active investors to assess which companies would be well-positioned to thrive in this rapidly shifting environment and which would struggle or might even be put out of business entirely.
German politics in general might lack the thrill and glamour present in other European countries. Under Angela Merkel, things have been steady as she goes for a very long time. But investors ignore the upcoming elections at their peril as material changes in fiscal policy, European integration and sustainable industry transformation may well be right around the corner.