Investors Still Queasy After Tech-Heavy Stock Selloff: Wealth Manager Reactions
Editorial Staff, September 8, 2020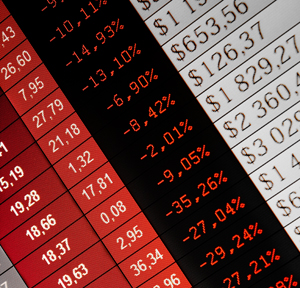 The beginning of September has, as if according to a script, brought fresh turbulence to markets. Tech-heavy equity indices have been particularly hard-hit, perhaps unsurprisingly after an eye-popping rally this year that seems to defy some of the somber economic news on the ground. Wealth managers give their first takes.
Investors in US equities are jittery at the time of this publication going to press today after last week's market selloff. No wonder: The Nasdaq Composite fell by more than 6 per cent over last Thursday and Friday after hitting a fresh high. Apple, the world's most valuable business by market capitalization (over $2 trillion), led the drop and the sellers did not back off the following day. The contrast between a strong equities market buoyed by central bank money printing and hopes for business recovery, and the daily grind of news stories about the virus, the presidential election and disorder in certain US cities, is hard to reconcile. Today, as investors returned to work after Labor Day, the question will be whether the fall delivers more turmoil, living up to the cliché of autumnal financial storms.

US stock futures are down today, and tech-laden Nasdaq Composite Index futures were down as at the time of writing. According to the Wall Street Journal today, shares in electric car maker Tesla were down by almost 10 per cent in pre-market trading.

Here are some views of wealth managers about the markets. As the US markets were closed yesterday, we take perspectives from Europe and Asia and will update with more perspectives as they roll in.

Saïd Tazi, portfolio manager at SYZ Private Banking.
We are not worried by recent developments. We have been saying for some time that investors need to pay attention to the more speculative names that have performed spectacularly since the beginning of the year, as some of them are at very high valuations – such as companies in the SaaS sector (software as a service).

Chris Gannatti, head of research, Europe, WisdomTree, a firm operating in the exchange traded funds space.
Much has been made of the recent selloff in US tech stocks. It is true that some of the largest companies by market capitalization dropped significantly over a two-day period: Apple dropped by almost 8 per cent; Microsoft dropped by more than 7.5 per cent, and Amazon dropped by more than 6.7 per cent. This generated attention because it was largely these stocks that had been responsible for propelling many of the various benchmark indices towards record highs after the COVID-19-induced market lows of March 23. Apple had been in the headlines recently for achieving a market capitalization greater than $2 trillion - the first company to ever do so.

The fact of the matter is that many tech companies have been delivering strong results relative to expectations. In cloud computing, for example, as many have been forced to work from home for significant periods of time, many software-as-a-service companies have been delivering incredible year-over-year revenue growth. Zoom Video Communications - emblematic of a company designed to help remote working and families stay in contact - delivered a 355 per cent year-over-year growth in revenues for the period ended June 30, 2020.

Pre-pandemic, Zoom Video Communications began 2020 with a market capitalization of about $18.8 billion. As of September 4, this figure was more than $100 billion, and the share price had rallied by more than 400 per cent. While it is difficult to find similarly mainstream companies that have delivered numbers on par with Zoom's, there are numerous software-focused cloud companies that have delivered returns north of 100 per cent in 2020. (He gives examples such as Fastly – 303 per cent; Docusign – 192 per cent, and Shopify – 145 per cent.)

Each of these companies has reported strong growth in year-over-year revenues as of its most recent earnings announcement. However, the problem that creeps up when returns are already this strong is that it is going to be harder and harder to continually beat expectations. It's also notable that Fastly, for example has a market capitalization of $8.5 billion and Zscaler has a market capitalization of $17.5 billion. This tells us that companies like these may also be susceptible to general market movements - up or down - with a great deal of sensitivity.

The COVID-19 pandemic is still ongoing and 2020 will go down in history as a difficult one from an economic perspective. A bit of volatility after record high equity market levels is only natural.

Eli Lee, head of investment strategy, Bank of Singapore.
Notwithstanding some near-term turbulence, we believe that the long-term trajectory of equities remains positive alongside a gradual economic recovery and supportive stimulus policy. Although it will be difficult to time the length and depth of this bout of consolidation, our stance on risk assets is broadly constructive, and we see these bouts of volatility as opportunities to add exposure incrementally at more favorable pricing.

We continue to advocate rebalancing of weights of portfolio positions in tech equities into cyclicals and value, which will further diversify exposure across a wider range of performance drivers and contribute to buttressing portfolio volatility ahead.